About Us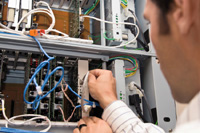 Corbin Technologies was founded in March 2005. We offer computer and networking products and services for businesses. With over 29 years of experience in computer and networking installation, integration services, maintenance, administration and support, our staff is on top of the latest advances in the technological industry as well as being knowledgeable from the ground up.
Corbin Technologies also collaborates with several consultants around the metro area who have skills that allow for specialization to serve almost any customer need.
We also offer services and products for the home and small office.